About Slavic Epic
The Slav Epic - Work as a border
The twenty large format canvases with scenes of key moments in the history of the Slavic nations are truly monumental. Alphonse Mucha spent 18 years working on The Slav Epic and regarded it as his life's masterpiece, the peak of his work for the nation. During the completion of the individual canvases, even in 1928, when The Epic was ceremonially handed over as a gift to the City of Prague, the reaction to the work was ambivalent. The general public accepted them with great admiration, while critics perceived the work more as politically orientated. Moreover, the cycle did not fit into any of the genres of the time, its concept seemed obsolete.
The idea of a cycle of paintings from the history of the Slavs came to Alphonse Mucha at the turn of the century. At that time, the Industrial Revolution was culminating, and at the World Exhibition in Paris in 1900 all the progress of Western civilisation was on show. At that time, Mucha lived in Paris, already a famous Art Nouveau artist, and in the midst of preparing the pavilion of Bosnia and Herzegovina - a Slavic state of the Austria-Hungarian Empire. Mucha had lived abroad for decades and longed to create something for his nation. Over the next ten years, he spent more and more time devoting himself to the idea, travelling and gathering the research required.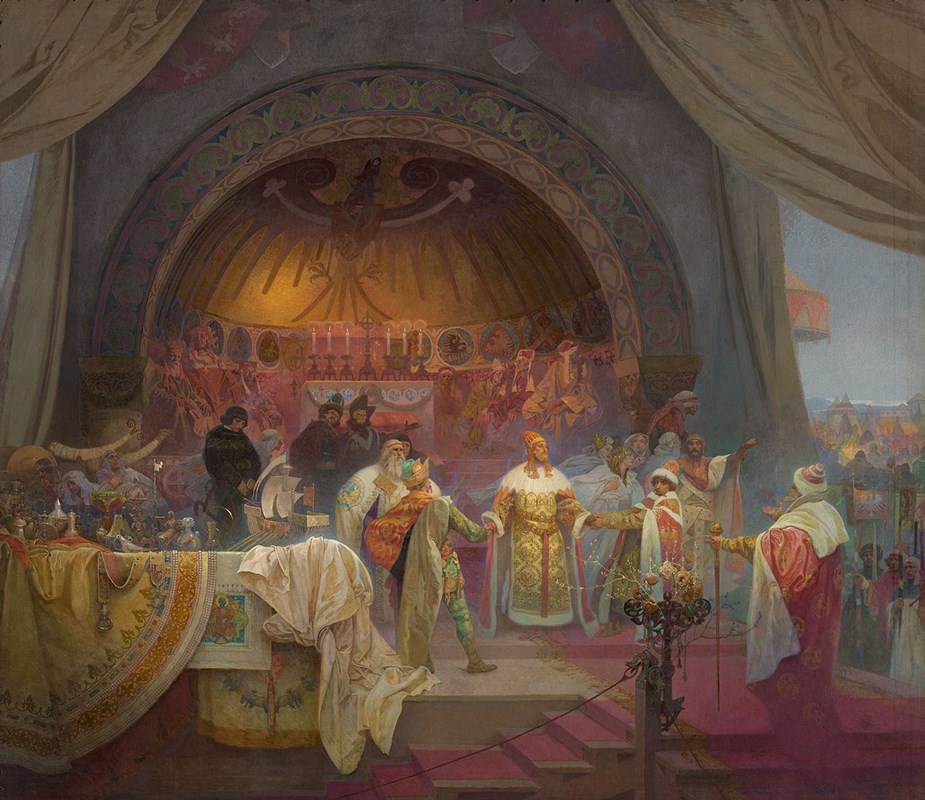 The history of The Slav Epic is a story of fulfilled dreams
In order to steadily work on his dream, he needed sufficient funding. During several visits to the United States of America (1904-1910), he gained a lot of attention and admiration, but insufficient resources for uninterrupted work, over what he estimated would be five years. Eventually, however, he met a wealthy businessman, and admirer of Slavic culture, Charles R. Crane, who showed enthusiasm for the painter's idea and was willing to finance the project. Thus, in 1910, Alphonse Mucha, returned home to Bohemia, after 25 years spent abroad, and began work on The Slav Epic.
At the castle in Zbiroh, he focused his concentration on large-format canvases (eg 610 x 810 cm, 620 x 405 cm and 480 x 405 cm). The twenty scenes represent the crucial moments in the history of the Slavs (The plundering of their rule, The adoption of christianity, The personality of Master Jan Hus or Jan Amos Comenius), as well as important places for the Slavs, such as Rujana, Moscow and Mount Athos. Mucha's Epic is interwoven with symbols and parables that make the work of Zdeněk Mahler's words "for the mysterious insider, for us who come to this, an unimaginable supply of meaning systems." Mucha connects the earthly world with the legendary world, puts bridges between opposites and ultimately wins harmony, hope and universal love.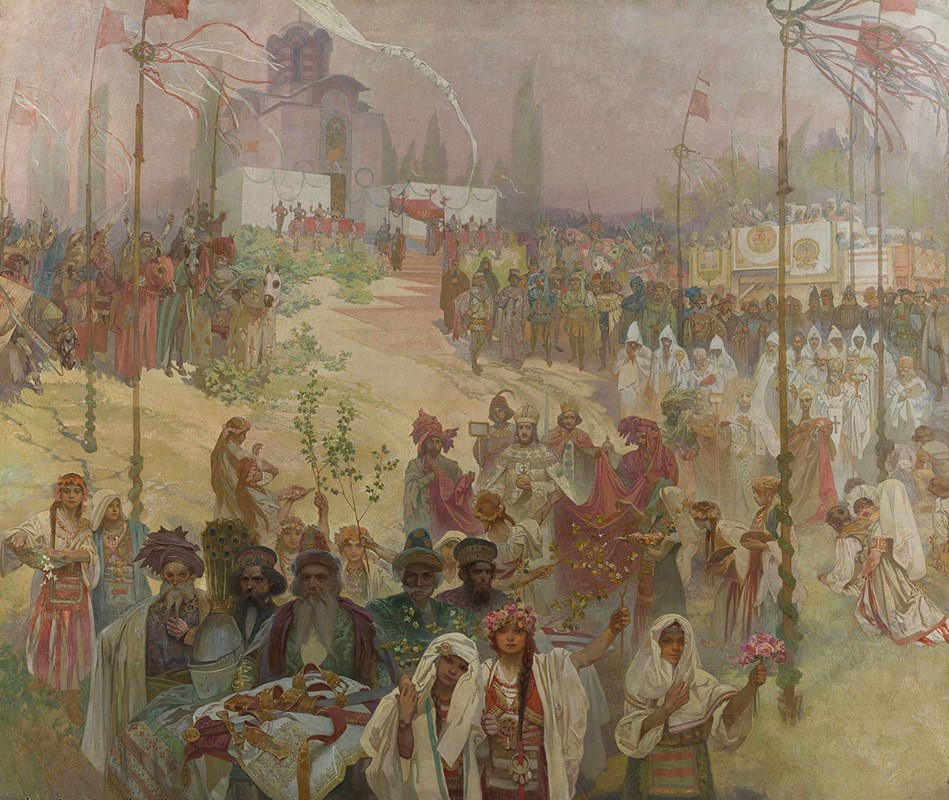 "The boundaries do not belong to anything that separates them, although on the other hand, it is obvious that the separated can only be adjacent to the border. The Slav Epic is just on this seam. The question of whether it belongs to the past or the future is not meaningful, because it belongs to those parts whose place is the difference between the two, not one or the other. "(Miroslav Petricek: The History of Alphonse Mucha's The Slavic Epic, Lenka Bydžovská , Karel Srp, Prague 2011)
[From the first exhibition of completed canvases in the Klementinum in Prague (1919) the paintings of The Slav Epic travelled the world, eg. to the USA (1920-1921), Paris (1936) and Japan (2017). For almost half a century (1963-2011) the paintings were stored, exhibited twice over this period, at the chateau in Moravský Krumlov, temporarily also in Prague's Veletržní palác.]